Twice we had been rebuffed. Twice, Los Angeles Times editor Bill Thomas had told us our 1983 series on Latinos was not worthy of a Pulitzer Prize nomination. Twice we had walked dejectedly out of his office in the publisher's suite. But would we—Frank del Olmo, George Ramos and I—accept no for the final answer? No way!
We were granted one more appointment with Thomas. On Friday, December 30, as 1983 was winding down, we walked purposefully into his office. Thomas sat at a large desk, his window-lined second-floor office just a block from L.A.'s iconic City Hall and other government buildings.
We presented our case once again, this time with even more passion and determination than before. We wanted our series, which had won high praise from readers and earlier from Thomas, to be nominated as acknowledgment of our good work. Thomas repeated that the series, although a good product, was "not the type that wins a Pulitzer." He said Pulitzers typically were awarded for investigative series that produce change. Besides, he told us, staff members had already prepared 27 Pulitzer entries from the Times, and they were nearly ready to ship them to Columbia University for judging.
Twice rebuffed, we were not about to accept anything but an affirmative response. We were there representing 14 other journalists, all Mexican Americans, who had initiated the project with a single goal—to inform and educate the public about Mexican Americans and other Latinos.
We had poured our hearts out while producing an exceptional 27-story series in one of the largest reporting projects in L.A. Times history. We had conducted more than 1,000 interviews to flesh out our portrait of the Latino community of Southern California. Going far beyond often-stereotypical news coverage, we had examined and written about education, politics, the job market, culture, religion, immigration, the arts and much more, all with a human focus.
OK, we argued in words along these lines, "So maybe our entry is a long shot, Bill. But what do you have to lose? You are not limited in the paper's number of entries."
There was also something else, something left unsaid at the meeting. During the project, a number of reporters had hurled ethnic slurs our way, such as "You guys going to write your stories in spray paint?" We had ignored those comments, but they still stung. For that reason, too, we saw a Pulitzer nomination as validation of our work.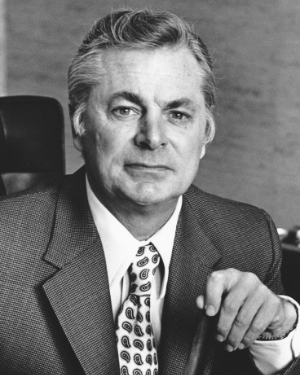 For a moment, the fate of our request hung in the balance. William F. Thomas, the seventh editor in L.A. Times history, sat back in his chair. Never in his dozen years as editor in chief had subordinates so boldly questioned his judgment on a Pulitzer entry. If his response was negative this time, we knew it would be final. Thomas had been praised nationally for initiating a high level of literary journalism at the Times and for elevating the newspaper to one of the three best in the nation. With an editorial department team of nearly 1,000 and a robust budget, he had sent his staff into the world to cover stories we called "non-duplicated." Yet Thomas and the paper had been faulted for missing important local stories. Thomas, who seldom made his way to the third-floor newsroom, was known to some reporters as "invisi-Bill."
I had been at the Times for 13 years and Ramos for five, but Thomas was a stranger to us. Del Olmo, on the other hand, knew Thomas well and held his respect. He had been a reporter when Thomas had been city editor, and it was Thomas who had promoted Del Olmo to editorial writer and columnist.
Seemingly eager to end the conversation, Thomas finally said: "OK, you write up the nomination and I'll sign it."
We raced up the stairs to the newsroom, sat at a computer work station and began writing that nomination. The first paragraph read this way:
"A dramatic social evolution was occurring in Los Angeles—the increasing Latinization of L.A.—but few in the press had charted its path or measured its impact. The region's Latino population had grown to 3 million, representing 1 of every 4 Southern Californians, but the general public often perceived this ethnic community only in simplistic, stereotypical terms."
With the nomination letter completed, we decided which 10 stories to submit, along with a paper-bound book, a handsome reprint of the series' stories and photos. And soon after New Year's Day 1984, our entry in the local investigative category was on its way to Columbia.
We had no clue that in a few months, our series would be described as "a landmark piece of journalism."